26 Feb

MODELS WANTED!!!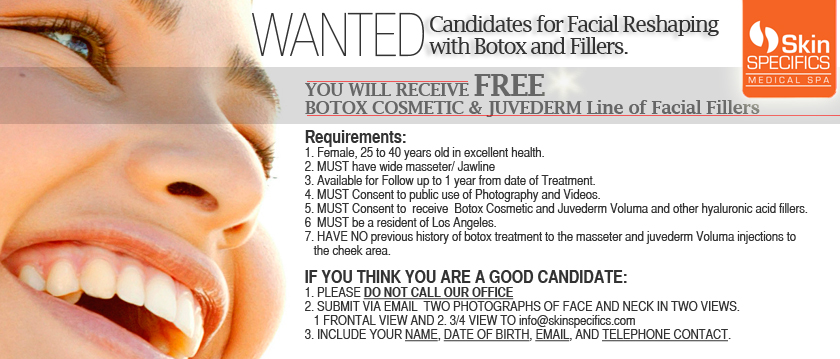 Wanted – Candidates for Facial Reshaping- with Botox and Fillers.
YOU WILL RECEIVE FREE BOTOX COSMETIC AND JUVEDERM Line of Facial Fillers
Requirements:
1. Female, 25 to 40 years old in excellent health.
2. MUST have wide masseter/ Jawline
3. Available for Follow up to 1 year from date of Treatment.
4. MUST Consent to public use of Photography and Videos.
5. MUST Consent to  receive  Botox Cosmetic and Juvederm Voluma and other hyaluronic acid fillers.
6  MUST be a resident of Los Angeles.
7. HAVE NO previous history of botox treatment to the masseter and juvederm Voluma injections to the cheek area.
IF YOU THINK YOU ARE A GOOD CANDIDATE
1. PLEASE DO NOT CALL OUR OFFICE
2. SUBMIT VIA EMAIL  TWO PHOTOGRAPHS OF FACE AND NECK IN TWO VIEWS.  1 FRONTAL VIEW AND 2. 3/4 VIEW  TO info@skinspecifics.com
3. INCLUDE YOUR NAME, DATE OF BIRTH, EMAIL, AND TELEPHONE CONTACT.