Our preferred facial filler at Skin Specifics Medical Spa is Juvéderm™ for its smooth consistency and longer lasting results. Juvéderm™, like Restylane®, is a gel made of hyaluronic acid—a naturally occurring substance in your skin that helps to add volume and hydration. We inject Juvéderm™ gel under the skin to instantly restore your skin's volume and smooth away facial wrinkles and folds, like your "smile lines" or "parentheses" (nasolabial folds—the creases that run from the bottom of your nose to the corners of your mouth) as well as to add volume to your lips. Results are instantaneous and can last up to a year.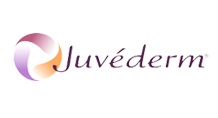 What Is Juvederm?
Juvéderm™ is a FDA approved hyaluronic acid filler like Restylane® and Restylane Lyft® and does not require allergy testing-like collagen used to need.
Juvéderm comes in a thicker and a thinner version. The one we use for you depends on which areas of your face we are targeting and what we are trying to achieve. Tiny lines (eg above the upper lip) and the under-eye area is more suitable for the thinner Juvéderm or Juvéderm Ultra, while for thicker folds or for building lost volume Juvéderm Ultra Plus is most suited. We also like Restylane for fine lines around the mouth and the under eye area.
Benefits
As you grow older, fat around your mouth and chin diminishes, as well as the size of your actual (mandible) jawbone. These differences are the reason your face is showing signs of aging.
Sooner rather than later is the best philosophy when treating your marionette lines, wrinkled mouth, thinning lips and jowls. Fortunately, there is a way to stop the clock on the appearance of aging
The secret to the effectiveness of Juvéderm's gel formula is a naturally-occurring sugar in the body known as Hyaluronic Acid (HA). That is because volume, moisture, and suppleness exist when great amounts of HA is found in the spaces between skin cells. As a baby, you had plenty of your own HA along with a plump, firm face. But over the years, levels of HA decrease and leave you with sagging skin and memories of your past youthful glow. Juvéderm products treat moderate to severe facial wrinkles and folds, and even plump your lips to confidently move into your future with a time-defying fresh face.
Types
Juvéderm Voluma XC
Juvéderm Voluma XC is relatively new to the United States but could be found in the European and other global markets for some time. Brought to us by Allergan, the makers of Botox Cosmetic and all previous Juvéderm products, Voluma XC is also a hyaluronic acid gel, a naturally occurring sugar in our bodies, but engineered and FDA approved for the treatment of "age related volume loss in the mid face".
It is referred to as a "high density" Hyaluronic gel because of its great ability to do more than just fill facial wrinkles. Voluma XC also adds fullness, lift, and contour to moderate to severe folds. The benefits of Voluma XC can last for up to 2 years. And if for any reason you are not happy with the results, they can be easily reversed.
The dense formula is versatile enough for penetrating the deeper dermal layers or to rest on top of cheekbones. Voluma XC is usually less painful during treatment because of its ability to be injected where there are fewer nerves beneath the skin. This is also why Voluma XC may cause less bruising as it is injected under blood vessels.
Juvéderm XC
Juvéderm Ultra XC is extraordinary if you have moderate to severe wrinkles and parentheses lines around the nose and mouth. The thicker formula is injected into the deeper dermal layers to smooth nasolabial folds and sunken cheeks. And because Ultra Plus is applied to the deep fatty layers of your skin, the product is also optimal for facial reshaping.
Juvéderm Ultra XC
Juvéderm Ultra is great for filling slight to moderate wrinkles to create a more smooth-looking appearance of the skin. Because of its thinner formula, this product is also effective as a subtle lip enhancer and for correcting the appearance of scars.


Uses
Cheeks
Injected into the deep tissue of the skin, it can provide the needed support to sunken cheeks through the use of HA, elastin, and collagen. Because the formula is pliable, Voluma XC can actually be used to sculpt and "lift" your face. Your instantly smoother and natural-looking transformation that can last for up to 2 years.
Lip and Lip border
Achieve firm and significant volume to your thinning lips with Juvéderm. The results are longer lasting than many other products on the market.
Nasolabial folds
These are the deep folds from the nose to the mouth. The use of Juvéderm XC can noticeably aid in adding volume and smoothing those deep-seated lines.
Marionette Lines
These are the lines running from the corners of the mouth down to the chin. Juvéderm XC helps eliminate those unsightly lines and give you your desired, natural looking results.
Chin and around the Mouth
A complete facial rejuvenation should include the youthful projection and volume of the chin. However, it is many times overlooked as an important feature that balances the facial contours. Thanks to Voluma XC, it is not necessary to undergo surgery to accomplish a chin augmentation. Voluma XC can plump the region to give your face optimal symmetry for up to 18 months.
Jaw line
Juvéderm Voluma XC will aid in giving you a beautiful, defined jaw line with lasting results.
Under the Eyes or "tear trough"
This is one of our favorite areas to treat as the results are always satisfying for those with concavity around the lower eyes making them look tired.
Between the Brows
Juvéderm XC can be beneficial for stubborn lines between the brows. Used in conjunction with Botox for a deep fold in the area.
Alternatives
"Liquid Face Lift"
Another interesting and unique way is to use fillers to create a rested, more volume enhanced subtle lift to the face. We do not overfill your face or try to make you look like you did when you were a teenager. The results of this type of filling are subtle and as the tagline says "everyone will notice, but no one will know".
There seems to be trend towards plumping up everything as much as possible, but we caution you against this look that seems to be popular around town, making everyone look the same!
Radiesse
Radiesse is an FDA-approved injectable subdermal filler made with Calcium Hydroxyapatite (a naturally occurring bodily substance) to diminish the look of deep facial wrinkles. Radiesse also assists in the correction of lipoatrophy (facial fat loss) in HIV and AIDS patients. It is however not as molding and pliable as Juvéderm. Radiesse results generally last up to one year.
Sculptra
Sculptra Aesthetic is an FDA-approved injectable filler made from the synthetic Poly-L-lactic Acid. It is meant to provide visible results over time as lost collagen is replaced. Essentially, it works to stimulate your own natural collagen production. This is meant for a more subtle approach to replacing facial volume loss. On average, it requires a series of injections over the course of a few months. However, the results can last for more than 2 years. The material used in the formula will not harm your body and is biodegradable.
Botox
Botox is not a volume-adding filler for wrinkles and folds. Rather, it is a purified protein that ceases muscle movement that causes the facial lines through nonsurgical injection. It's most effective for improvements to the forehead, crow's feet around the eyes, and area between the brows (glabella). The results are immediate, quickly achieved in under 30 minutes, and doesn't involve "downtime."
Chin Augmentation Surgery
The purpose of the augmentation surgery is to resize or reshape the look of the chin.
There are two ways in which the chin can be augmented through surgery. One is called Sliding Genioplasty which utilizes your own bone to shape the chin without the use of a synthetic implant. A cut will be made either inside your mouth or underneath your chin. Then a pocket is made in the muscle underneath the front of your chin bone. A surgeon will use either real bone, a synthetic implant, or fat tissue by attaching it to the bone with screws or sutures. The resulting scars are hardly seen when the cut is made inside the mouth.
With either surgery, general anesthesia is required. In some cases, numbing medicine is used instead, along with a medication to make you drowsy.
Fillers Treatment Map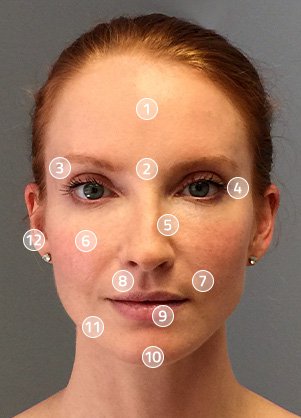 Forehead (Restylane, Belotero Balance)
Glabella (Restylane, Juvederm, Belotero Balance)
Temples (Radiesse, Juvederm, Restylane Lyft)
Lower Eyelid Hollowing and Nasojugal Sulcus (Restylane, Belotero Balance, Juvedern Ultra)
Nose (Juvederm, Restylane Lyft, Restylane)
Cheek/Mid Face Hollowing (Radiesse, Juvederm, Restylane Lyft)
Nasolabial Fold (Juvederm, Restylane)
Fine Lines (Restylane, Belotero Balance)
Lips (Juvederm, Restylane)
Chin (Radiesse, Juvederm, Restylane Lyft)
Prejowl Sulcus (Juvederm, Restylane, Radiesse)
Ear Lobes (Restylane, Juvederm)
Consultation
During your consultation, Anusha Dahanayake will want to learn about your desired expectations and goals with your treatment. She will evaluate your skin's current condition and facial structure to determining what products will work best for your needs. She will show you 'Before and After' photos of patients who have had similar procedures and answer any questions. This is also the time when she will discuss cost, precautions, and all other important issues. Please be sure to tell Anusha about any of your past surgeries, health issues and current medications.
Preparation
If you are taking the following medications you should know it can increase your likelihood of bruising. Therefore we advise you to stop taking any of these medications about 4-7 days prior to any injections unless not advised to do so by your physician.
Motrin, Advil, Ibuprofen, Naprosyn (or same class of anti-inflammatory medications)
Aspirin
Fish oils
Vitamin E
Glucosamine
Ginko Biloba
Coumadin or Lovenox (though you are more likely to bruise if you are on these, we suggest you DO NOT stop this medication, and seek your primary doctor's approval)
It is recommended to take Arnica Montana (as directed) before and after treatment to help minimize swelling and bruising.
Additionally if you are prone to "cold sores" around your mouth area and if you plan on any treatment in that area, it is advised that you take an antiviral such as Valtrex prior to and after treatment. We would be glad to prescribe this for you prior to your procedure.
Procedure
Anusha will begin by assessing a specific injection plan based on your facial appearance. She will then mark the targeted areas of injection on your skin before cleaning it with an antibacterial formula. Now you are ready for Anusha to insert the treatment using very fine needles. Your session will last for approximately 30 minutes or less.
Recovery
There is no "downtime" associated with Juvéderm injections and you should notice immediate improvement to your appearance. However, these following steps will help to optimize the overall result from your treatment program:
Do not take Aspirin or Non-Steroidal Anti-Inflammatory Drugs (Motrin, Advil, etc) for at least five days before the treatment for 2 weeks following your procedure. However, Tylenol is an acetaminophen and approved for pain relief.
Do not rub or massage the area (unless we specifically instruct you to do so) for the first 24 hours.
Do not sleep on your face or compress the area when you sleep as much as possible for the next 2-3 days.
Avoid significant facial expressions for the next 4-8 hours.
You may apply ice to the area – especially lip area.
If you have swelling and redness, this is normal, and it will subside significantly in 24 hours.
Do not exercise or expose yourself to too much heat in the following 24 hours (no hot tubs, etc.)
No facials for one week.
Avoid massages of the treated area or having your face in a massage cradle for 2 weeks after your procedure.
Avoid alcoholic beverages for 24 hours after your treatment.
Do not drink with a straw right after the session if your lips have been treated.
You may apply some arnica gel on the area treated as well as take arnica orally if you want to decrease the likelihood of bruising and speed up the recovery. In addition, it is fine to take a cool shower and apply makeup after the treatment. You may notice bumps or marks at the injection site for up to a few hours following the procedure. Some patients experience mild pain, itching or redness that may last up to 2 days.
Frequently Asked Questions
Are there age restrictions for Juvéderm?
If you are over the age of 21 years and have volume loss to the face because of aging, weight fluctuations or medical problems that cause facial drooping, you qualify as a candidate.
In the mature client, restoring lost volume will require multiple syringes. Most of our clients will begin with 2 syringes of Juvéderm Voluma XC. It is worthwhile knowing that most study participants in the FDA trials for mid face augmentation received an average of 6 syringes of Juvéderm Voluma to get the results that was desired and needed, to treat "age related volume loss in the mid face".
In younger clients, Voluma XC works beautifully to enhance the chin, project the cheeks and the lips! As part of our facial reshaping and rebalancing procedures, Voluma XC provides a soft, natural lift and projection with lasting results.
What is the age range of the ideal candidate for the Liquid Face Lift?
Generally, the most common age range for a Liquid Face Lift is 40 – 55 years old when sagging seems to become present but a face-lift is not yet needed.
What fillers are used for the Liquid Face Lift?
To achieve this subtle lift we typically use a combination of 2 or 3 fillers chosen from either Restylane, Juvéderm, Radiesse or/and Restylane Lyft because different areas of the face will need subtly different types of fillers chosen for their longevity and consistency.
What areas are typically injected for the Liquid Face Lift?
Temples, sides of the face in front of the ears, the jaw line, the mid face, and under eye areas if needed. Rather than inject individual areas like the nasolabial folds and cheeks, some people will get a more subtle "lifting" when this method is utilized. Additionally, Botox is also used to achieve the overall enhancement to various areas of the face.
How much filler is needed for a Liquid Face Lift?
Typically at least 4 syringes are needed. Not all of the filler needs to be done the same day. We typically like you to come for 2 visits.
How much filler will I need for other areas?
This all depends on the areas we are treating and the results you desire. For deeper folds and for building up lost volume in your face we may suggest Radiesse or a combination of Radiesse and Juvéderm. We do not however use Radiesse to fill lips or lip borders.
How long will Juvéderm last?
The manufacturer claims 6 – 9 months or longer, but it also depends on which areas were treated and your body and its metabolism. Typically we have had great results with Juvéderm lasting at least 9 months to 1 year and in some cases over 2 years! Additionally, in our experience, in the areas of your face that do not have that much movement (ie cheeks, forehead) Juvéderm seems to last longer than in the mouth area. Touch up treatments done 4 – 6 months following the initial treatment will make the filler last longer overall.
Are people satisfied with Juvéderm at Skin Specifics Medical Spa?
Yes, most of our clients are very satisfied with Juvéderm. But of course there have been some who have been dissatisfied for the following reasons: they happen to bruise more than they were prepared for, the area was lumpy (this is easily corrected), or they needed more Juvéderm than they could afford to get the full desired result.
Anything else I should know about Juvéderm?
Yes, all hyaluronic acids – Juvéderm Restylane for example – can be dissolved by injecting something called Hyaluronidase and will be gone in about 24 to 48 hours. This makes Hyaluronic acid based fillers a very safe filler, especially for those of you who have never tried it before and are a little nervous!
How much will my procedure cost?
The price is based upon number of vials needed for your desired result. Book your complimentary consultation, to learn more.