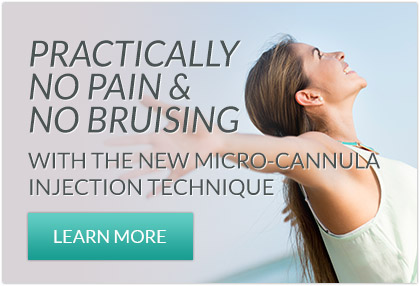 Restylane is an FDA-approved dermal gel/filler that is derived from hyaluronic acid. Hyaluronic acid is a naturally produced sugar molecule found in all living organisms, including our own body. Restylane gel is created in a sterile lab environment. Due to its natural components and it being non-animal based, an allergy test is not necessary prior to injection with Restylane. All "dermal Fillers" like Restylane and Juvederm provide fullness, and help us create facial balance, lift skin, and fill folds and lines. The effects of facial fillers are immediate unlike neurotoxins such as Botox and Dysport.
When Do We Use Restylane?
At Skin Specifics we use Restylane for many areas of the face to add volume and soften wrinkles and folds. However, the most important way in which we use fillers is to create or recreate balance and proportion in a face. It is our goal to make the face look hydrated, lifted, and proportionate.
Understanding What Is Happening To Your Face
Though most of us are concerned about wrinkles and folds, it is important to keep in mind that aging happens deep within our facial structure and includes the loss of fat, collagen, elastin, and bone. With aging comes the "descent" of tissue or skin that makes us look tired and more mature than we often feel. Folds and lines are usually the symptom but we must always address the cause which is usually a deeper loss of volume.
Lifting and filling deep folds and re-proportioning facial vectors with Restylane Lyft and Restylane or the Juvederm line of fillers is key to bringing an aging face up to the best version of its self.
Candidates For Restylane
Those who have fine lines to severe wrinkles around the eyes, mouth, and on the forehead
Moderately sagging jowls, turned down mouth
Thin lips
Scars and pock marks
Volume loss in the temples, cheek, and mid face
Chin
Mid face
Non-surgical nose correction
Eye brows – to lift and add youthful volume
Moderate nasolabial folds
Ear Lobes
Fillers Treatment Map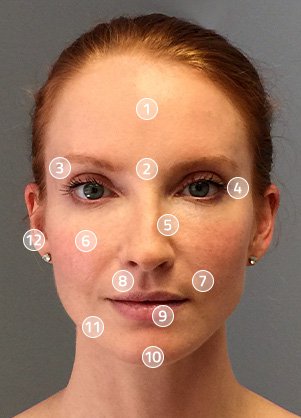 Forehead (Restylane, Belotero Balance)
Glabella (Restylane, Juvederm, Belotero Balance)
Temples (Radiesse, Juvederm, Restylane Lyft)
Lower Eyelid Hollowing and Nasojugal Sulcus (Restylane, Belotero Balance, Juvedern Ultra)
Nose (Juvederm, Restylane Lyft, Restylane)
Cheek/Mid Face Hollowing (Radiesse, Juvederm, Restylane Lyft)
Nasolabial Fold (Juvederm, Restylane)
Fine Lines (Restylane, Belotero Balance)
Lips (Juvederm, Restylane)
Chin (Radiesse, Juvederm, Restylane Lyft)
Prejowl Sulcus (Juvederm, Restylane, Radiesse)
Ear Lobes (Restylane, Juvederm)
Treatment Areas
Restylane for the Loss of Volume
Restylane Lyft for Loss of Volume lifts the cheek and Mid Face, fills the folds around the nose and mouth, and reduces shadows and folds with hyaluronic acid gel to create a fuller appearance. Restylane lyft is the preferred treatment for this area as is Juvederm Voluma.
Restylane for Acne Scars and Marks
Restylane Lyft for Acne Scars and Marks works by filling in the pock marks and other scars on the face. This will create a fuller appearance to the scar, therefore smoothing it out.
Restylane for the Jaw Line
Restylane Lyft as well as Restylane-L for the jawline can help a sagging jawline (known as jowls). It was once thought that fillers could not help these areas, but now we understand that sagging along the jawline is not only the result of the loss of skin elasticity, but that it is also from the loss of volume.
Restylane for Lip Augmentation
Restylane for Lip Augmentation: We love Restylane Silk for adding natural volume to the lip as well as rejuvenating the area surrounding the mouth without making it look stiff or unnatural, especially when you smile.
Alternatives
Botox
Botox Injections (botulinum toxin) can reduce fine lines and wrinkles by immobilizing muscles. While Botox will create a smoother appearance to the face, it cannot fill in sunken cheeks, deep creases around the nose and mouth, scars, nor define or plump the lips. Botox and Dysport are complimentary rather than true alternatives to dermal fillers.
Laser Therapy
(We do not offer ablative laser treatment at skin specifics) Laser Therapy uses a pulsating light on the facial skin. It can reduce fine lines and wrinkles, and create suppler skin, but it will not reduce deep creases, sunken cheeks, or fill in the lips.
Ultherapy
Ultherapy is meant for those who want to have some lift to their face non-surgically. Ultherapy lifts the skin, reduces fine lines and wrinkles, and stimulates collagen under the surface. The results generally take months to see, and it will not help with thin lips, scars, deep creases, or sunken cheeks. Ultherapy should be thought of as an adjunctive treatment to treatments such as Botox, Dysport and dermal fillers and not an alternative.
Fat Transfer
Fat transfer is a surgical procedure done via liposuction. One area of the body is the "donor," such as back, stomach, thighs, or buttocks. The fat is "sucked" out of the body, then it is put into a centrifuge to separate out the fat deposits from the stem cells. Once this is done they are combined only using the most viable fat deposits and injected into the cheeks, lips, and other facial areas.
This is the most natural form of a dermal filler and has long lasting results. However, there is down time for fat transfer via liposuction whereas there generally is no down time when dermal fillers are performed. Fat transfers are also not suited for everyone and not all areas of the face that are suited for dermal fillers are suited for fat transfer. Fat transfers should be taken seriously because they can entail complications and deformities that are not as easily correctible as those with Dermal Fillers. If you are thinking of fat transfer you should consult a reputable plastic surgeon who is an expert in this particular procedure.

Preparing for Your Consultation
Things to consider:
Browse through pictures of yourself 5, 10 and even 20 years back, and bring them with you to the consultation.
What you would like to achieve at the consultation as well as going forward in the following months, year, and years to come?
What is your PRIMARY reason for seeking cosmetic rejuvenation? Is it to enhance a particular feature, maintain "the best version" or yourself, looking your best at an upcoming event?
How much energy, time, and finances can you commit to reaching your cosmetic results initially, in the year ahead, and for maintenance going forward?
How Important is it for you to maintain a youthful appearance and why?
What You Can Expect at the Consultation?
This is an opportunity for us both to get to know each other and discuss in detail your concerns, look at any pictures you bring, and discuss your aesthetic goals.
We will review your medical and cosmetic history and discuss any past experiences
We will examine your face for the "magnificent 7"

Facial Symmetry & Triangle of Youth
Forehead Height
Eyebrow Shape
Eye Size and Inter-eye distance
Nose Shape
Lips (length and height)
Skin Clarity, texture and Color

We will and give you an opinion of what is possible, what is not possible, and what we think we can achieve together going forward
If we believe your concerns are best treated surgically we are happy to refer you to an appropriate plastic surgeon from our list of favorites
We will discuss which Dermal filler or combination of dermal filler and neurotoxin such as botox cosmetic and/or skin treatment will give you the best GLOBAL cosmetic improvement
"A thing moderately good is not as good as it ought to be. Moderation in temper is always a virtue; but moderation in principle is always a vice." -Thomas Paine
We will detail the procedure for you and explain any side effects as well as discuss cost.
We will also detail any pre and post procedure instructions.
In some instances we can do the procedure the same day as the consultation.
The Procedure
All filler treatments procedures start with either a topical anesthetic, an injection of anesthetic, or an anesthetic block to lessen or eliminate the discomfort of the injection. Once the desired area is numb we will inject the filler under the skin. Multiple injections are made so the dermal filler is evenly distributed through the area. The entire procedure can be performed in less than an hour.
Recovery
The recovery process for all dermal fillers is relatively moderate. Some people will have slight swelling in the areas of the face, but it should go down within a few hours. If you have Restylane injections into the lips, tenderness, bruising, and swelling can last a few days. We will detail what to expect and give you anti-inflammatory medications if we think you will benefit. With Restylane Silk and sometimes with Restylane-L we see more swelling the following morning.
Frequently Asked Questions
Are There Different Types of Restylane?
Yes, there are three types of Restylane: Restylane-L, Restylane Lyft and Restylane Silk. The easiest way to think about them is that they all have different thicknesses and therefore used in different parts and depths of the face to get the appropriate result.
Can Restylane Be Used in the Under Eye Area?
Deep hollows under the eyes can be age related, but it is also often a genetic or ethnic predisposition. We see many clients of eastern european, Indian, and Asian descent that can have a predisposition to hollowing and darkness around the eyes. However, not everyone with hollow or dark circles is a candidate for filler in this area. We love Restylane and Belotero for the under eye area. When done over time with caution and a conservative approach tired looking eyes can be rejuvenated and lifted with Restylane or Belotero.
What is Restylane Lyft?
Restylane Lyft was formally known as Perlane-L and is the thickest or the one that gives the most lift in the Restylane line of products.
Where Do You Use Restylane Lyft?
At Skin Specifics we love all the Restylane family of products for their smooth consistency and versatility.  We often use Restylane lyft to treat the mid face, cheeks and chin, as well as in the nasolabial folds and for the correction of nose defects.
How Much Restylane-Lyft Do I need?
Its a quarter of a teaspoon!
Each syringe of Restylane Lyft and most dermal fillers have 1ml of Hyaluronic acid gel, the equivalent of a 1/4 of a teaspoon, in one syringe. Sometimes, we can achieve magic with just 1cc of product. But it is not unusual to start with at least 2 syringes of Restylane Lyft to get the ideal lift in the mature client in the mid face and cheek.
In general, the more mature, thinner, and more sagging, the more Restylane, or any dermal filler you will require. It is best to be realistic and appreciate a global improvement in your new look rather than feel that you should fill every crease, crevice, and fold on your face. It is our goal to work with you overtime and keep you appropriately youthful.
How Long Does Restylane Lyft Last?
The filler will be in your face for 1 plus years. However this does not mean that you just need one syringe every year. Your face will continue to mature and age and you may need it more often and in larger quantities as you age. Additionally, various fillers will last different lengths of time.
Most "young" men and women are enhancing a lip or cheek, or subtly rebalancing a small feature such as a nose, chin, cheek, li, or jawline with dermal filler and Botox cosmetic. This type of use may only require 2 syringes every year.
In contrast, a mature face will require much more filler for lifting (start at 2-3 syringes) and volumizing every 3-4 months the first year to regain balance in various parts of the face. After the initial year of treatment, maintenance treatments in the subsequent years will usually be necessary every 1-2 years, where we add small increments of Juvederm or Restylane.
Treatment with botox cosmetic or Dysport however will be needed every 3-4 months to maintain results.
How Do We Decide Which Filler to Use For a Particular Area?
Particular characteristics of the face, facial dynamics, skin health, and the particular characteristics of a filler and the result we ultimately want to achieve dictates the choice. In most instances different filler agents with differing consistences may be required to treat the same area. For example, fine lines on the surface are best treated with products such as Restylane Silk, Belotero or restylane -L, while volume loss and lifting may require more robust fillers such as Restylane Lyft, Juvederm Voluma, Juvederm Ultra Plus XC or collagen stimulators such as Sculptra.
How Long Will My Restylane Lyft Results Last?
Restylane Lyft is designed to last 9 months to one year. For the mature or maturing client starting in their 40's onwards, the first year of treatment is designed to "fill up the gas tank" when you may need to see us for 2-3 visits. In the subsequent years of "maintenance" you will require less filler and less often.
Does Restylane Treatment Hurt?
It is our goal to give you the best results with the least pain/discomfort. We may use a Microcannula or a needle to inject. A needle is sharper but can bruise more while a microcannula can be safer but you may "feel" the movement of the cannula under the skin more than you do a sharp needle. Most of our clients will rate the experience as a 3/10 (10 being the most pain).
How Much Bruising Will I Have Following Dermal Fillers?
We do our absolute best to try and decrease the likelihood of bruising. We will use blunt cannulas as much as possible but sometimes we do use a needle to inject certain areas which can increase the likelihood of bruising. We do recommend you adhere to the pre and post care instructions as much as possible.
Is There Anything I Can Do To Decrease the Likelihood of Bruising and Prepare for My Dermal Filler Treatment?
Yes, See "preparation and Recovery" areas
What is Restylane Silk and Where is It used?
This is the thinnest version of of the Restylane line of products and the latest to receive FDA approval. Restylane silk was specifically FDA approved for the "smokers Lines" or the "barcode" type lines around the upper lip and around the mouth as well as the lips itself.
Restylane Silk is injected very superficially and should not be injected into the muscle or under the muscle as it can cause severe swelling and deformity in the area.
Where Else is Restylane Silk Used at Skin Specifics?
Forehead lines, under eye hollows, and lateral lines around the cheeks when you smile that are not treated successfully with Botox cosmetic or Dysport.
What Will My Restylane Silk Experience Be Like?
After we have placed a topical anesthetic for about 30 mins to the area to be injected we will inject Restylane Silk either with a needle or a very small microcannula into the very top layers of the skin around the lip border and the lip itself. While we still use Juvederm for lip augmentation for those who want fuller lips, Restylane Silk serves more to bring "life" back to "tired" lips while also treating the "barcode" type vertical lines around the mouth.
Restylane Silk and Restylane-L are the only FDA approved fillers for the lips in patients over the age of 21. However, our clients also love the effects of Juvederm Ultra and Juvederm Voluma in the lips if they desire much fuller lips.
What Can I Expect Immediately After Restylane Silk Treatment Around the Mouth?
Immediately after, mild swelling and redness to the area is to be expected but most people can expect to go back to work in a few hours.
What Can I Expect the Days Following Treatment with Restylane Silk?
Swelling can occur in the following hours and the morning after treatment. We have found that swelling following Restylane Silk is more than any other Restylane or Juvederm line of products. For this reason, we almost always give or prescribe anti-inflammatory pills for you to take after the procedure and the next day, as this decreases swelling and "social downtime" exponentially.