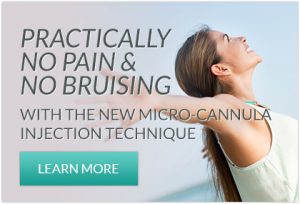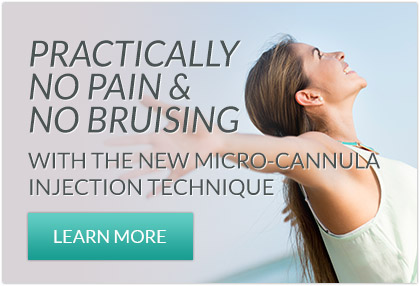 There could be many reasons for temporal hollowing. At Skin Specifics we will evaluate and treat this area if the hollowing is due to the natural aging process. Temporal hollowing due to the aging process typically begins to happen in 4th decade of life and worsens in the 5th and 6th decade. In some, temporal hollowing may start even earlier in life.
What product do you use to treat Temporal Hollowing?
Radiesse and Juvederm have offered the best results for this area at Skin Specifics. It must be kept in mind however the temples can require up to 2 syringes per side for correction.
Temple Injection Safety
The temples need to be injected with great care. There are many important anatomic landmarks in this area. In order to treat this area with the greatest safety we ONLY inject the temples using Needless Blunt Cannulas. Not only do we avoid any untoward affects that can happen with the use of a traditional sharp needle, with the Blunt Cannula, we can get the product to lay down very smoothly. Additionally any lumps bumps and bruising are minimized if not completely avoided with this new system of injecting. Read More about Cannula Needless…